The Carroll Center for the Blind Names New Director and Assistant Director
NEWTON, Mass. (March 23, 2023) – The Carroll Center for the Blind, a leader in services for individuals confronted by the challenges of low vision and blindness, today named Tina Laffer as the new Director of Outreach and Community Engagement and Donna Mitchell as the O&M Assistant Education Director.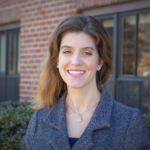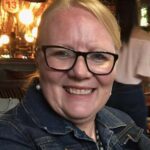 Tina Laffer is a highly experienced special education and rehabilitation professional with over 15 years of experience in the field of blindness. She holds a Master's degree in Organizational Leadership and Learning from The George Washington University and a Master's degree in Vision Rehabilitation Therapy from the University of Massachusetts, Boston. Tina is also a National Library of Congress UEB Literary Braille Transcriber and an ACVREP-certified Vision Rehabilitation Therapist (CVRT). Tina previously taught at Perkins School and the Carroll Center. She serves on the board of AER in the Vision Rehabilitation Therapy division. "We are excited to have Tina return to the Carroll Center with her extensive experience in working with clients of all ages and stages in their vision journey," said Dina Rosenbaum, Chief Program Officer. Tina will be assuming this newly created role as the face of the Carroll Center in the community.
Donna Mitchell has been promoted to Orientation & Mobility Education Assistant Director to provide leadership support for Education Orientation & Mobility instructors. Donna Mitchell is a Certified Orientation & Mobility Specialist with 20 years of experience working with children and adults who are blind, visually impaired, or deaf-blind. A graduate of the UMASS Boston Vision Studies program, she is the 2022 recipient of the NEAER Excellence for Direct Service to Children Award, a teacher and mentor to UMASS Orientation and Mobility graduate students, as well as an NEAER board member and chair of the Awards Committee. Donna will continue to provide instruction to students as a Carroll Center COMS, but will also mentor new teachers and support the growth of the department. "Based on her experiences raising children with disabilities, Donna has proven to be a passionate supporter and tireless innovator for the inclusion of all people with disabilities to live, learn, work, and play without barriers at home, school, and in their communities." said Nancy Sharon, Director of Education and Community Services.
Donna joins Moira Sadler, TVI Education Assistant Director. Moira returned to the Carroll Center over a year ago, providing both direct service and mentorship to new TVI Educators.
About The Carroll Center for the Blind
Established in 1936, The Carroll Center for the Blind empowers those who are blind and visually impaired to achieve independence and to lead a fulfilling life. The nonprofit organization provides services for individuals of all ages and all stages of vision loss, including vision rehabilitation services, vocational and transition programs, assistive technology training, educational support, services for seniors, and an optical shop. For more information, visit www.carroll.org.
Contact: Jungwoo Sonn, Carroll Center for the Blind, (617) 981-9368, jungwoo.sonn@carroll.org