CarrollPrep Weekend Programs for Teens
Weekends Are Meant for Doing Something You Love. Discover What That Is for You.
We understand the importance of finding what drives you and how to utilize those passions to guide your life. As a result, The Carroll Center for the Blind has developed exciting Saturday programs that expose students to a variety of careers while allowing them to engage in activities to prepare them for the workforce of tomorrow. Current statistics indicate that approximately 75% of adults who are legally blind are unemployed. Children who are blind miss the opportunity to observe the world of work as part of their daily lives like their sighted peers do. Structured learning and experience is required to expose them to the skills and tasks that are required in a variety of jobs. Saturday offerings also include preparation for college.
CarrollPrep offers a variety of Saturday programs that provide skill development, opportunities to learn about a variety of technologies, and hands-on experiences in various careers and life events. Courses include guest speakers who are employed, blind or visually-impaired individuals sharing experiences about access and employment in the real world.
The Lunch Box: Workplace Etiquette
Students spend their school years developing skills for future education. However, there is a whole set of skills needed to help adolescents gain and retain jobs. These soft skills enable you to fit in with the culture of the workplace and stand out as an employee. That is where the lunch box comes in! Work life revolves primarily around work peers and food! Students will not only learn about what to put in a lunch box, but also the invisible skills to successfully socially integrate at lunch and beyond. What's in your lunch box?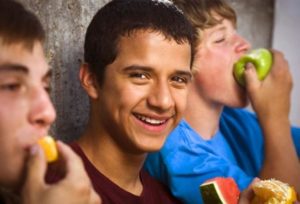 Students will increase skills & experience in:
Workplace Readiness

: on the job etiquette, meal & clothing prep, money management, working as a team, time management, travel planning, organization.

Job Exploration

: site visits at large employers such as hospitals, universities; navigating workplace environments.

Work Based Learning

: calendaring, planning & travel apps.

Self-Advocacy

: public speaking, problem solving, work-place socializing.
All Sessions meet from 9:30am to 1:30pm
Dates: To Be Determined
Topics: Making/storing a lunch; navigating the corporate lunch room; conversations around the lunch table; eating etiquette, lunch budgeting (bringing in vs eating out), dining out.
Fit-ting in at School, College and Work
Staying active improves physical and mental health, helps you do better at school/work and provides social opportunities. Students with vision loss are often less likely to engage in sports and recreation options in their community and are identified as more isolated than their peers. Experience in recreational sports offers students opportunities to make friends in new environments, develop leadership, decision making, and team building skills, learn to find social connections and interact with different personalities.
Students will gain personal skills in:
Workplace Readiness

: teamwork, leadership, decision making, planning and managing tasks, organize events, time management.

Self-Advocacy

: advocating for your needs, increasing self-confidence and controlling personal growth.

Educational Opportunities

: sports and recreational educational opportunities.
Dates TBD (to be determined): All sessions meet Saturdays, 9:30 A.M. to 2:00 P.M.
All sessions include lunch, equipment and materials. Transportation may be available.
To register, please contact Nancy Sharon by email or at 617-969-6200 ext. 217
*May be eligible for PRE-ETS funding through your state Vision Rehabilitation counselor.
SAT/ACT and College Application Prerequisites & Process
This unique two-day opportunity is perfect for students who plan to pursue post-secondary education. The course guides students regarding the college application process, pre-requisites for admission, and the ACT/SAT pre-admission test. Advice on preparation for the two major college entrance exams currently required by most institutions of higher learning will be detailed. The course will review practice test items and non-visual ways to understand charts, tables and graphs on the tests. All students who will be enrolled in 9th to 12th grades during the 2022 school year are welcome to apply for this two-session program. Students will increase skills & experience in:
Self-Advocacy

: problem-solving, using assistive technology, advocating needs within academia.

Enrollment in Secondary Education

: Application process, test & course requirements.
Lead Presenter: Denise Wade, M.Ed
Upcoming Course Dates
The next offerings of the SAT/ACT and College Application Prerequisites & Process are as follows:
Sessions will meet from 9:30 A.M. to 12:30 P.M., snack included. Students should bring their own equipment and devices which they intend to use during pre-admission testing. March 26, 2022 will be snow/make-up day.
Students may be eligible for PRE-ETS funding through their state Vision Rehabilitation counselor.