Philanthropy Circle of Independence
The Carroll Center for the Blind provides a pathway for our clients to live independently so they can lead a fulfilling life. Our leadership annual giving program, the Philanthropy Circle of Independence, will support this important work by providing lifelong support through a circle of connections powered by philanthropy.
Members of the Philanthropy Circle of Independence include alumni, parents, staff, corporations, foundations, and friends who support the Carroll Center for the Blind with annual gifts of $2,500 or more. As the Carroll Center's most dedicated donors, Circle of Independence members fund the organization's greatest needs through their leadership gifts, making an immediate impact in the lives of the clients we serve and allowing the Carroll Center to be a leader in the field of vision rehabilitation.
Join the Philanthropy Circle of Independence today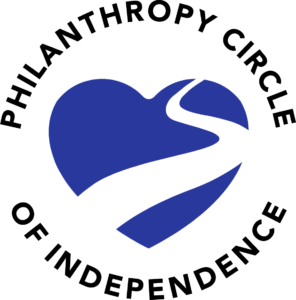 at any of the following levels and you will receive year-round recognition and opportunities to engage with the Carroll Center. As a member you will be recognized as a Circle donor at events, on our website, and in our Annual Report's Honor Roll of Donors. You will receive exclusive communications from Carroll Center leadership regarding Center priorities, new initiatives, and funding allocations, and gain private access to Carroll Center programs through tours, meet-and-greets, and personal instruction. Membership also includes invitations to members-only events that foster community among this group of leadership donors and provide a unique opportunity to meet and interact with Carroll Center leadership, program staff, and clients. Most importantly, you will have the satisfaction of knowing your generosity makes it possible to fulfill our mission of empowering those who are blind or visually impaired to achieve independence and to lead a fulfilling life.
LEVELS OF GIVING
| | |
| --- | --- |
| Founder: | $100,000+ |
| Stakeholder: | $50,000 – $99,999 |
| Benefactor: | $25,000 – $49,000 |
| Sustainer: | $10,000 – $24,999 |
| Principal: | $5,000 – $9,999 |
| Partner: | $2,500 – $4,999 |