The White Cane Legacy Circle
Estate planning gifts are an important source of financial support and sustainability for the Carroll Center for the Blind. Legacy gifts can be made with a bequest in your will, revocable trust, by beneficiary designation, and by other types of planning arrangements.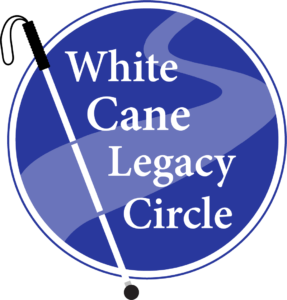 The White Cane Legacy Circle recognizes donors who have expressed their loyalty and gratitude to the Carroll Center for the Blind in their estate plans. The name of this legacy circle recognizes the iconic white cane used by people with vision limitations. The white cane enables such individuals to make their own decisions about where they want to go and how to get there; with the cane, they can travel without assistance and can lead free and independent lives.
If you have already named the Carroll Center as a beneficiary of a legacy gift, please let us know so we can properly thank you and enroll you in the White Cane Legacy Circle. Membership is honorary and involves no obligation. To join, simply advise the Carroll Center that you have made a provision for the Carrol Center for the Blind in your estate plan or other donative arrangement. Knowing your present intentions helps us plan for the future and will inspire others to consider legacy gifts to the Carroll Center.
If you are not already a member of the White Cane Legacy Circle but are interested in how you can support the Carroll Center with a legacy gift, we encourage you to read our donor stories to learn about their planned gifts. You can also read about the various types of legacy gifts available to learn what works best for you and your family.
If you would like more information on the White Cane Legacy Society or making a legacy gift to the Carroll Center, please contact Dara Dalmata, Chief Development and Communications Officer at 617-969-6200 x259 or dara.dalmata@carroll.org.
Want to learn more about planned giving concepts and the most popular ways to leave your legacy? View our recorded Planned Giving Basics webinar.