When School's Out, The Fun Begins!
For generations, students who are visually impaired have chosen to spend their summers at the Carroll Center because of the unique experience it provides. As part of our services for the blind and visually impaired, the Carroll Center offers a variety of summer youth programs for youth ages 14 to 21 that empower students to develop socially, academically, and independently during the summer months. Bring your energy, enthusiasm, and willingness to engage and learn, and you will master skills and create memories that last a lifetime.
Whether a student needs to learn technology, develop travel skills, have their first summer job or get ready for college, students who come to the Carroll Center all leave with a greater sense of confidence and independence. Maintaining a highly attentive and supportive culture where students exchange perspectives on their vision loss, the Carroll Center employs sighted and blind educational and rehabilitation professionals to teach, guide, and empower students to reach beyond the boundaries set by themselves and others. We encourage you to contact us for more information and plan a visit to the center.
Chuck L.

The summer programs my daughter attended last summer had an enormous effect on her development, emotionally, socially and academically. She was a changed teen after her experience with the Carroll Center and I am forever grateful to your organization for her growth and the insights she came away with as a result of attending.
Carroll Teens
The two-week Carroll Teens program offers both day and overnight options for students entering grades 6 through 9, focusing on increasing their independence and self-confidence. Students will receive direct instruction in orientation and mobility, social skills, activities of daily living, and use of accessible technologies. Students stay in a Victorian-style home on the campus of Lasell University in Newton and share the responsibility of preparing meals, doing laundry, and maintaining a clean and organized household. They will utilize public transportation to access recreation and career exploration activities.
Program Dates: 
July 11th, 2022 to July 22nd, 2022
Applications will be accepted beginning January 3, 2022. Please submit applications by Friday, May 13, 2022. For applications and additional information, please email kidsandteens@carroll.org, call Nancy Sharon at 617-969-6200 ext. 217 or use the contact form.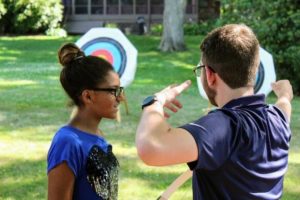 Youth in Transition
This six-week residential summer program for students ages 15 to 21 years old promotes independence as they make the transition from teens to young adults. Students will strengthen organizational, personal and home management skills, and community travel abilities through training, socialization and recreational opportunities.
Program Dates: 
July 11th, 2022 to August 18th, 2022
Instruction is provided in daily living skills, health management, career exploration, money management and budgeting, technology training (including iOS devices), and travel options to name a few. Weekly field trips enable students to experience the best of Boston's historic sites, beaches, museums and amusement parks. A variety of clubs, evening and weekend activities that include fencing, sailing, games, and arts allow for socialization, leadership and increased confidence.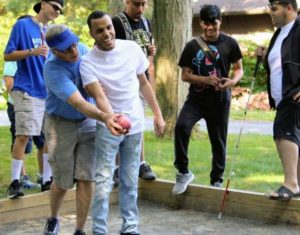 Real World of Work Experience
Let us find your first summer job and help you make it a rewarding experience. Participants will engage in community-based work experiences, hone independence and engage in social activities with peers. Grow your employment knowledge and experience with Carroll Center staff and mentors in a supportive environment. Participants will gain hands-on skills, build confidence, acquire financial literacy and learn to collaborate with others.
Program Dates: 
July 5th, 2022 to August 18th, 2022
During the first week of the program, you will receive mobility training, attend job-readiness classes and visit your job site. For the remaining weeks, you will work part-time, visit other employment sites, and join peers on exciting field trips. Students must have a photo ID, be age 16 or older, and have updated immunizations. Students are required to manage their daily living needs and must have some travel skills to be able to work a minimum of 15 hours per week. Previous Youth in Transition Students are given priority in this program.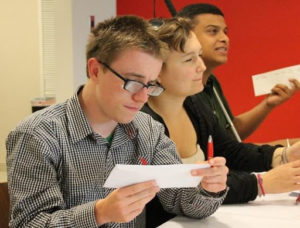 Computing for College
This three-week program is designed to help college-bound high school students and current college students further develop their technology skills. Computing for College provides students with advanced computer instruction along with crucial visits to local college disability services offices to provide information on obtaining accessible materials and support while at college.
Program Dates: 
July 11th, 2022 to July 29th, 2022
Students will be provided with training in Windows 10, file management, Microsoft Office 365 applications, email, web browsing, scanning documents, and accessing e-books. A demonstration of an online learning management system will be provided. The use of digital book players, such as the Victor Reader Stream, and iOS devices, such as the iPhone, will be covered. Students will attend lectures on topics including computer security and data backup; social networking; and student life.
Participants must be able to type at least 20 words per minute on a computer keyboard with a high level of accuracy. Students are expected to take and refer to notes throughout the course. Students should be current users of Windows with either the JAWS screen reader, ZoomText Magnifier/Reader, or MAGic Screen Magnification software. Students are encouraged to bring and use the laptop computer that they expect to use in their college studies. In addition to classroom activities, students will participate in field trips and evening recreation programs. Housing is available.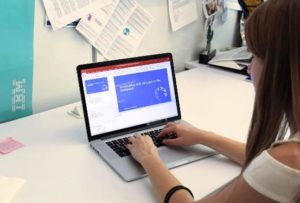 College Boot Camp
A one-week College Boot Camp is ideal for those planning on attending college in the Boston area. Our expert staff works personally with students to make sure that they are acclimated to college life before the start of the semester. Students will receive daily orientation and mobility (O&M) at their college along with technology and daily living skills support, socialization with other college students and exposure to Boston transportation systems.
Program Dates: TBD
Further O&M instruction will be provided on your college campus once you move on campus. Students may also receive direct instruction once they arrive on campus as well as travel routes in and around Boston and technology assistance if needed. This program provides Pre-Employment Transition Services (Pre-ETS) instruction in self-advocacy and preparation for post-secondary programs.
EyeWork
The EyeWork program is open to capable and enthusiastic undergraduate college students looking for summer opportunities to gain valuable corporate experience while exploring different industries. The Carroll Center for the Blind provides all of the necessary support, including job coaching, technology training in job-specific software and more to ensure a successful summer work experience.
This internship experience for current college students lasts 8 to 10 weeks. As an industry leader, The Carroll Center for the Blind has forged partnerships with well-known organizations—maximizing the impact of EyeWork internship experiences. Past program participants have worked at such companies like T.J. Maxx Corporation, IBM and State Street Corporation. Housing is provided on a local college campus with students in other Carroll Center programs.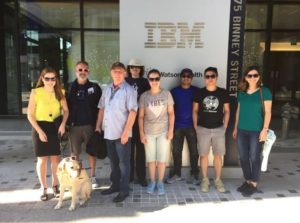 Summer Computer Courses
Specialized computer courses are available during the summer for students who need individualized instruction or are beginning computer users.
To see how we can best accommodate your technology instruction needs, contact us today to speak with our
director of admissions
.