Gateway to Independence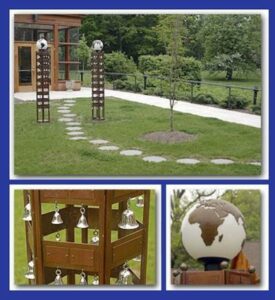 Nancy Schon, the sculptor of the Make Way for Ducklings statues and dear friend of our namesake Father Thomas Carroll, created the Gateway to Independence sculpture to inspire the Carroll Center's clients. The Gateway to Independence sculpture stands in our courtyard between the Lulie Gund Center for Vision Rehabilitation and the Rachel Rosenbaum Technology Center, symbolizing the past, present, and future for those whose lives have changed due to their vision loss. 
The sculpture's twenty blue stepping stones represent the twenty losses that Father Carroll describes in his book Blindness. Additionally, the gateway's hexagonal pillars include bells for the present. The bells produce a soft jingle in the wind allowing all those who visit the piece to witness its beauty regardless of their ability to see. The globes atop the pillars light up when someone approaches the sculpture, symbolizing how the Carroll Center helps "light up the world" positively impacting the future.
Don't miss your opportunity to dedicate a bell on this memorable sculpture! A large bell can be dedicated with a gift of $2,500 and a small bell can be dedicated with a gift of $1,000. We will install a bronze plaque below your bell and will engrave it with the inscription of your choice. This engraving can be your name, a brief uplifting message/quote, or a dedication to a loved one, Carroll Center client, or inspirational figure.
To order your bell, please fill out this form and someone will be in touch to confirm your order and share the installation timing. If you have any questions, please reach out to Martha Hanlon, Director of Annual Giving and Database Operations, at martha.hanlon@carroll.org or 617-969-6200 x. 213.