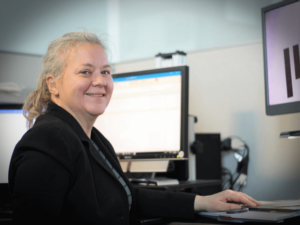 Pauline Dowell is an Administrative Assistant to the head of Benefits for the Massachusetts Institute of Technology (MIT). She has been working there for the past six years and speaks of how amazing it is to be a part of such a forward-thinking institution. The campus has so much to offer including sailing, museums, art installations, beautiful walking paths along the river, and an overall great atmosphere.
Over the years, though her position itself has not changed, the day-to-day work has changed as her colleagues discover what she is capable of doing. Her work just becomes more interesting and engaging. All her employment needs to be successful have been met by the accessibility office at MIT as well as the Massachusetts Commission for the Blind. MIT has active Employee Resource Groups for people with disabilities as well.
Pauline primarily uses NVDA on her computer. NVDA allows blind and vision impaired people to access and interact with the Windows operating system and many third-party applications. At home, she also utilizes Braille labels on household items and enjoys listening to books through Audible and the Perkins Talking Book Library.
She grew up in Ware, Massachusetts which is a town located in the western part of the state. Her parents were key to fostering a creative spirit within her. In school she considered herself "one of those weirdos that liked school." She enjoyed seeing friends every day and learning new things. Pauline especially loved her art classes and all her art teachers. She took many drawing and painting classes. This passion for art led her to attend Mass College of Art in Boston and then completed her degree at UMass Amherst. She graduated with a degree in painting with a minor in teaching. Her painting style was as a realist. She attended the New England Academy of Art, and the Academy of Realist Art (ARA) in Boston after graduating UMass. She was well studied in drawing anatomy and still life scenes until her sight began to diminish.
Pauline was born with vision in only one of her eyes. Over time, she slowly lost the sight in her eye that had vision. She was declared legally blind in her mid-forties and continues to have diminishing sight to this day. After her diagnosis she needed time to get used to things. She began to withdraw from social situations due to disorientation of the space around her and misunderstanding from others. She was not able to work the way she used to and her job at that time was outsourced leaving her unemployed.
Thankfully getting the help she needed made all the difference. She was able to attend the Carroll Center for the Blind and learned mobility practices that led her to embrace the use of her cane to regain her independence. It took some time for her to readjust to certain obstacles like construction sites and fenced off sidewalks. Pauline eventually transitioned to having a guide dog from Seeing Eye when she realized she needed more assistance. Her amazing black lab Dora has greatly aided with her mobility and independence.
After going to the Carroll Center, she attended a disability job fair at Lesley College. Needing to find work, she spoke to many people there, but with little luck. Feeling defeated, she came across the MIT booth on her way out and began to talk to the representatives about how amazing their institute was. She enjoyed attending performances there and how this impacted her life for the better. They were impressed by her support and knowledge. She was the obvious choice for a job at MIT and the rest is history. Pauline looks forward to her future at MIT and having more challenging projects.
Now, she not only enjoys her career, but is a passionate sailor. Learning to sail in her teens on the Charles River, she continues to sail even after her sight loss. She learned of a blind sailing group run by the Carroll Center and Arthur O'Neil. She immediately joined the team and has become a competitive sailor and challenges herself by entering in sighted regattas. Sailing is more than just a passion; it is a lifestyle. She currently lives with her dog Dora on a sailboat on the Boston Harbor in Charlestown.
Pauline continues with her art by learning pottery. Coincidentally when she attended the Carroll Center, a dorm supervisor spoke of a pottery teacher who is knowledgeable in instructing blind students. This instructor worked at MIT and has a studio in Back Bay. She attends his class to this day.
She encourages everyone who may be going through similar challenges to just go out in the world and find what's out there! Join clubs like Boston Blind Sailing where you will meet other blind and visually impaired people that have common interests. They will be super supportive and help you. Make sure to challenge yourself daily and set up goals even if they are small goals like going outside or seeing a movie in a theater. She went from sailing with the Carroll Center's wonderful sailing program to challenging herself in major regattas. She is a finalist in the Holman Prize in 2019. Her proposal is to have her all blind women's team sail in the Newport to Bermuda race. To check out her team, please visit http://holman.lighthouse-sf.org/2019-finalists/