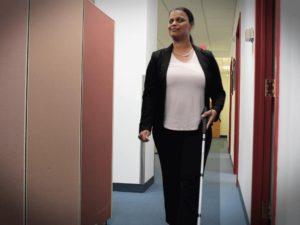 Daniela Depina has been a dedicated Peer Advocate for the Center for Independent Living for the last seven years. She works to ensure people with disabilities are able to receive equal rights, access to services for fair living conditions, and opportunities for them to grow within their communities. She currently works at The Boston Center for Independent Living (BCIL) for the past year this August, helping people become connected to the services that they need such as applying for affordable housing, building work and personal independent living skills, completing job applications, self-advocacy, and providing peer mentoring tailored to guide each person to individual success.
Now a full-time employee, she has the pleasure of working with a variety of ages. Her job at BCIL is fully accessible with top notch technology that reinforces her independence while building her self-esteem. As most of what she does is electronic. If an obstacle comes her way, Daniela uses her resourcefulness and her iPhone to solve each situation. Once she received the proper training, there is nothing she can't do.
Daniela is one of four children and a native of Cape Verde. She and her older sister were both born with glaucoma. Her and her family moved to the United States when she was ten so that she and her sister could receive the proper health care that they needed. When Daniela was thirteen, due to language barriers, her mother signed paperwork for a surgery that would affect Daniela for the rest of her life. This surgery caused irreversible damage to her right eye and left her with significant sight loss. Since that time, she has received additional surgeries to recover some vision and takes five different eye drops to balance out her eye pressure, She is left with a life long struggle with pain, but is able to see some objects, light and colors which makes all the difference for her to live a full life.
Back in Cape Verde, there were no schools for the blind or visually impaired. Nor was there proper training for independent living skills. Daniela wanted to fulfill her dream of going to school as she would watch her other sister and brother go to school each day. Once they immigrated to America, her dream became a reality. She was finally able to attend school where they knew how to properly teach her the skills she needed. Daniela didn't know English or Braille, but she was determined to learn all that she could.
Ms. Barbara Fragoplous at Washington Irving Middle School opened a new world for Daniela. Her teacher believed in her and encouraged her to go after her dreams. The Massachusetts Commission for the Blind also played a tremendous part in her life as they supplied her with the tools she needed, especially her mobility training with her cane. Her parents never understood her independent living goals, and this was difficult for her as the support from family is key to success in life.
Despite this conflict, she continued her education by going to a summer adult skills program at the Carroll Center. This gave her the opportunity to meet other people with similar conditions who were successful and teaching the skills that she always dreamed about learning. This experience at the Carroll Center inspired her to go further by earning an Associate's degree Roxbury Community College and her Bachelor's in Early Childhood Development at Pine Manor College. Her mission in life is to help those with disabilities be successful in all that they do. She hopes to earn a degree in Special Education in the future.
Daniela loves to sing, spend time with family, volunteer at a homeless shelter, and mentor young adults to help with their trust and self-confidence. She encourages others to learn to overcome fear whether you are learning to cross the street or to cook on a stove. She also states that you need to learn how to trust those who are trying to help with your independent living skills. It may seem hard at first, but it is all worth it in the end making all the difference in life.