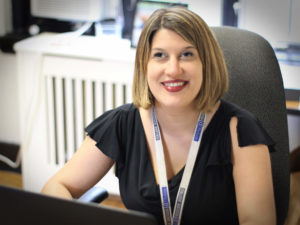 Kate Katulak is the Assistant Director of College Success at Perkins, a nine-month residential program for high school graduates to learn blindness skills and college readiness. Kate was part of the development group of this initiative which just finished its inaugural year. She helped graduate eight students with visual impairments from seven states in the nation. She is a certified teacher of students with visual impairments and seeks to receive a certification in assistive technology instruction.
As part of her work, she designs curriculum, teaches classes, supervises staff, and speaks out about how the educational system can improve training for students who are blind and visually impaired. Kate hopes to improve her leadership skills and truly enjoys her current position. Being that Perkins is a school for the blind and visually impaired, they promote independence which is liberating for Kate as well as it being aligned to her passion for creating equality in education. Kate feels privileged to work with a supportive supervisor and a great team.
She grew up in Beavercreek, Ohio which is a suburb of Dayton. Her family has always been supportive of her pursuits. She had many opportunities as a kid to explore the world around her. Climbing trees and exploring the woods filled her youth. This allowed her to develop many different life skills. She attended public school and was quite active in soccer and softball. After going blind, she attended a school for the blind for a year where she ran track, was a cheerleader, and participated in a public speaking club. She returned to public schools for her senior year and graduated with honors.
Kate is totally blind since the age of fifteen, when a virus made her extremely ill and took all her vision. She was hospitalized for three months, during which time she almost didn't make it due to the severity of the illness. Her rehabilitation process involved instruction in orientation and mobility, Braille, independent living skills, and assistive technology. She feels that this training was central to her success in college and later in her life.
She earned a Bachelor's of Arts in Psychology from Wright State University and a Master's in education with a concentration in blindness and visual impairment from Columbia University's Teachers College. She had to advocate for herself many times, especially in math class. Using Braille materials, text to speech translation and receiving instruction beyond class time helped with her scholastic success. She feels she was fortunate to have support each step of the way.
One of Kate's teachers at the school for the blind truly inspired her path in life. He was blind with a full life, family, and teaching others with blindness and vision impairments. Seeing other people with limited vision succeed, along with her training, supportive family, and self-determination, gave Kate strength to be the leader she is today.
Her sophomore year in college, Kate got her first guide dog Cabot, a golden retriever, from Guiding Eyes. While she maintains her cane skills, she now has a second dog from Guiding Eyes named Hosta. With her adorable black lab, she can independently travel to conferences all over the United States to advocate for equal educational opportunities for students who are blind and visually impaired.
Outside of her rewarding career, Kate enjoys hiking, camping and being outdoors at every opportunity she gets. She also has competed in one marathon and several triathlons. She aims to continue as a leader in the field of blindness education.
She believes perseverance is key. There are many situations in life when things don't go right, and people need to digest those as opportunities rather than see them as obstacles. Doing this will help in finding greater happiness.