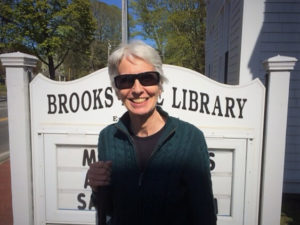 Carla Burke is the Assistive Technology Coordinator at the Brooks Free Library in Harwich, MA. Established in 1880, Brooks Free Library was the first free public library in Harwich. Founded by Col. Henry C. Brooks and originally known as the Broadbrooks Free Library, the Library is part of a broader legacy left to the town by the Brooks family. The Library has been owned and operated by the Town of Harwich since 1910 and is governed by a 7-member elected Board of Trustees.
Carla has been working at the library since 2003. She has a commute most of us would love: she can simply walk up the street to the library. When the weather is less than optimal, she will either ask a friend for a ride or take public transportation.
As the Assistive Technology Coordinator at the Brooks Free Library, she has a lot of job responsibilities. Some of her responsibilities include coordinating services for patrons with vision loss, providing technology assistance to these patrons, recruiting and training volunteers, and purchasing and maintaining the library's assistive technology. Carla provides resource and referral services and records data as well. She is responsible for conducting outreach to the community to spread the word about library services. Fundraising is also a necessary part of her job.
Carla's main responsibility is to coordinate the VITAL (Vision Impaired Technology Assistance at the Library) Program. The Brooks Free Library offers assistive technology and training to people with vision loss. Patrons have access to the following computer programs: ZoomText screen magnifier & reader, JAWS screen reader, Dolphin Guide screen magnifier & reader, Kurzweil 1000, and Duxbury Braille Translation software.
The VITAL program also offers instruction to patrons who want to learn to use the Victor Reader Stream, Apple's iOS devices, and the library's desktop and handheld video magnifiers. Patrons are taught how to download books and magazines from the National Library's Braille and Audio Reading Download website and the Perkins Library online public access catalog. VITAL will soon add an Amazon Echo smart speaker to its program.
One of Carla's many tasks is to create new programs for patrons.  She has organized art and gardening programs for people with vision loss.
In 2008 she started a program called Knit Lit; a weekly group of experienced knitters and novices, both sighted and visually impaired who share knitting stories and experiences with each other while knitting. Knit Lit continues to be one of the library's most popular programs.
Recently, in conjunction with the Harwich Council on Aging, Carla introduced a monthly program called "Living with Vision Loss" where she demonstrates devices and techniques that people who are blind or who have low vision can use to perform daily tasks.
Carla has just written a grant to fund the purchase of adapted games. She hopes to be able to offer programs where patrons with vision loss can get together with each other, and with sighted peers, to play these games in a social setting. The games will also be made available to patrons who wish to borrow them from the library. Grant writer.
Carla enjoys creating new programs and has flexibility and independence at her job. Her workplace is a wonderful environment and the staff are friendly and cooperative. The library has been very accommodating to her vision loss. She has the opportunity to use the technology in the VITAL program and has JAWS, Duxbury Braille Translation software, and a braille embosser at her workstation. If she requires additional technology, the library is happy to provide it.
Virginia Hewitt, Carla's supervisor and Library Director wrote: "It would be difficult to find someone who has had more of an impact on improving the lives of persons with sight loss than Carla. She is a recognized and widely respected leader for the inclusion of people with sight loss and other disabilities not just in Harwich but across Cape Cod and Massachusetts".
Carla collaborated with the Perkins Library and the Mass. Board of Library Commissioners on an in-depth handbook on how libraries can provide services to persons with vision loss. After publication, a copy will be in every library in Massachusetts.
Of course, Carla is an avid user of technology in her personal life as well. In addition to JAWS and Kurzweil 1000 on her home computer she enjoys using her iPhone and other iDevices. She uses many popular apps accessible to people with vision loss. Additionally, she uses a Victor Reader Stream and a Perkins BrailleWriter.
Carla graduated from Salem State College with a BA in Social Welfare. After graduating, she continued her education by taking courses at a local Community College. Before her vision loss, she worked in childcare, nursery and daycare settings.
Went to eye doctor in college where they found a tumor on her retina, which was benign, but shortly after Retinitis Pigmentosa (RP) was then identified. There is no family history. Her eyesight gradually worsened until about nine years ago when she became totally blind at age 55.
It was around that time Carla moved to the cape and her vision started to deteriorate. Carla purchased a computer and received JAWS from the Massachusetts Commission for the Blind. She learned JAWS using cassette tapes and by attending the Carroll Center and taught herself how to use the other programs. She has continued her education by taking courses through the Hadley Institute for the Blind and Visually Impaired and regularly attends work related conferences and workshops. Also uses victor stream, iDevices with a host of apps, talking books, Braille writer.
Her O&M training with Richard Roper around the Harwich area and services from Linda Mello at MCB. Carla resides in Harwich Port, MA with her husband of 41 years. Carla has been a member of the Disability Rights Committee in Harwich and was on the Board of Directors of Sight Loss Services. She enjoys knitting items for local charities, reading, gardening, being outdoors, walking, hiking, and sailing. She is a volunteer on the Pleasant Bay Community Boating task force that has developed a Blind Sailing program in Chatham-Harwich Communities.
Carla has won several awards, including the Cape Cod and Islands Red Cross Hero Award in the category of "Individual with Disability Mentor/Role Model", a Community Service Award and the President's Award from the Chatham-Nauset Lions Club, and the Bay State Council of the Blind Outstanding Service Award. In 2018 Carla was awarded an honorary membership in the Cape Cod Chapter of the Blinded Veterans Association.
Carla is grateful for the many wonderful role models she has encountered. She advocates that it is important for people with disabilities to get out into the community and serve.