Carroll Center for the Blind Publishes Book about Using Zoom for People with Visual Impairments
An invaluable resource for individuals who are blind or visually impaired needing to participate in, and host Zoom meetings as a result of changes caused by COVID-19 restrictions.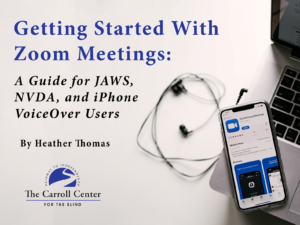 NEWTON, Mass. (June 1, 2020) – The Carroll Center for the Blind announced today that it has published a new book, "Getting Started With Zoom Meetings: A Guide for JAWS, NVDA, and iPhone VoiceOver Users," by Heather Thomas. The new book is expected to serve as an invaluable resource for people who are blind or visually impaired wishing to participate in and host Zoom meetings in the workplace, for educational purposes, and for personal use. The publication is timely as so many people are now required to work and stay at home.
"We're excited to introduce this first-ever, step-by-step text-based guide to Zoom Video Communications for screen reader users," said Thomas, who serves as the Accessibility Services Associate at The Carroll Center. "With so many of us now learning, working and connecting through remote methods, I wanted to create a resource to help during this time of social distancing as people are relying on Zoom to stay connected."
The Carroll Center produced the book because its clients and staff members have been affected by nationwide stay-at-home orders and quarantines. Most remote workers at this time have shifted to telecommunications software like Zoom. This affects individuals who are blind and visually impaired. People who are blind or visually impaired must use special screen reading software to access digital content on computers and smartphones. With this book, they now have a guide to working effectively with Zoom meetings.
The book has been enthusiastically received among the professional assistive technology community. Brian Hartgen, a 25-year assistive technology trainer of Hartgen Consultancy, commented, "I personally endorse the quality of this book. It is a truly excellent piece of writing. I am very particular about documentation, in terms of its content and presentation. I cannot think of anyone else who writes with such a high degree of thoroughness as this author does." Because software like Zoom is constantly changing, The Carroll Center for the Blind, Hartgen Consultancy and others in the assistive technology field are offering ongoing training courses for Zoom users who are visually impaired.
The digital-only book is available for free in two formats. Download Getting Started with Zoom Meetings in Word format here. Download Getting Started with Zoom Meetings in PDF format here.
[addthis tool="addthis_inline_share_toolbox_p2tx"]