Sara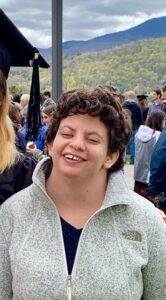 Born with CHARGE syndrome, Sara has experienced vision loss since birth and was the only blind person in her school. As a result, Sara recognizes the unique opportunity the Carroll Center for the Blind provides members of the blind and visually impaired community to live, laugh, and learn alongside one another. "The Carroll Center community represents a minority group, which is why it is so valuable to share this connection with others," Sara explains.
In the fall of 2021, Sara participated in the Carroll Center's 20-week Vocational & College Transition Program. Sara particularly enjoyed her two internship experiences at the National Braille Press and the Lasell Village that provided her with real-world, hands-on experience.
Sara then enrolled in the Carroll Center's Screen Reader User Tester Training Program, a seven-week training that prepares participants to obtain employment in the field of digital accessibility. Because of the skills she gained, Sara was offered a four-month internship at Staples. Sara looks forward to furthering her education through the National Federation of the Blind training in Colorado and eventually completing her Master's degree.