Technology Fair
The Carroll Center for the Blind welcomes you to be a part of the Annual Technology Fair on Tuesday, November 21, 2023!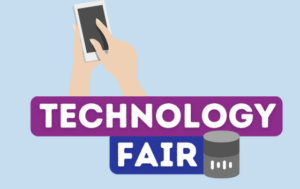 Each year we bring together life-changing low vision and blindness-specific assistive technology exhibitors from all over the world to connect with the blind and visually impaired community of consumers, families, friends, professionals, and anyone who is interested in learning more about assistive technology. 
The 2023 Technology Fair will be held at the Carroll Center for the Blind, in Newton, MA on Tuesday, November 21 from 9:00 A.M. EST to 3:00 P.M. EST. Join us to discover the latest technology that helps people with low vision and blindness live as independently as possible.
This year's event will have two components: an in-person exhibition hall and in-person workshop presentations that will be streamed on Zoom (you must register to acquire the Zoom link). Presentations will run from 9:00 A.M. EST to 3:15 P.M. EST. The Carroll Store will be open from 9:00 A.M. EST to 4:00 P.M. EST. 
As always, the Technology Fair is free and open to the general public. While registration is not mandatory, we recommend it for those who wish to receive the latest updates as we get closer to the event, such as a Zoom link to presentations and parking/drop-off information. Free coffee & muffins will be provided in the dining hall and lunch will be available for purchase from 10 am to 1 pm. Please purchase your lunch tickets early ($5).
Presentations
9 am to 9:45 am:

Be My AI, Nick Corbett and David Kingsbury
Learn to extract information from images with the new Be My Eyes app feature called "Be My AI". From submitting pictures for interpretation and asking follow-up questions such as recognizing landmarks while traveling, identifying the layout and options on an appliance control panel, putting together outfits, and troubleshooting computer challenges, Nick and David will guide you through real-world applications for using AI.
10:30 am to 11:30 am

Three Apps for Built Environment Navigation, Nick Corbett
Join Nick as he touches upon how OKO, Magnifier, and Seeing AI are helping people access crosswalk signals, detect doors, measure proximity to people, read text, and navigate around objects using lidar enabled haptics.
12:30 pm to 1:15 pm

Smart Apps in the Kitchen, Sheila Carney, Kritika Singh
Experience the apps that will make your kitchen more accessible to you! Apps like Seeing AI, Tap Tap See, and Be My Eyes will be demonstrated to identify food products, read recipes, follow cooking directions, find expiration dates, and more. Also see a demonstration of Amazon Echo Show, and its popular feature of show and tell. You can even ask Alexa for help with recipes and cooking questions.
2:30 pm to 3:15 pm

Top Ten Daily Screen Reader Practices, David Kingsbury
Join David as he reviews his top ten daily practices for being an effective screen reader user; from the very basic to a bit more advanced. He will also discuss revisions that will be appearing in his third edition of "The Windows Screen Reader Primer: All the Basics and More." This new edition will be released by the Carroll Center early next year.
Exhibitors
Thank you to our Sponsor!