MBTA's Suspension of Bus Route 52 Affects Carroll Center for the Blind
BY EMILY KRAUS (VIA THE HEIGHTS)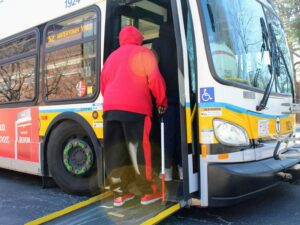 Public transportation is more than just a way to travel between two destinations for some Newton residents. For students and staff at the Carroll Center for the Blind, bus route 52—which was recently suspended—was also an essential learning resource.
The route was suspended as part of the MBTA's "Forging Ahead" initiative on March 14. This service change, among others, follows the MBTA's budget shortfall due to the decreased ridership caused by the pandemic.
"It has been especially a big loss to our clients because we use the bus for teaching how to use public transportation," Jennifer Harnish, director of rehabilitation services at the Carroll Center for the Blind, said. "And it also gives them an independent way to travel because they can walk down the driveway, walk to the bus stop and just hop right on to get to various places in Newton."
Bus routes 18, 55, 68, 79, 212, 221, 465, and 710 were also suspended on March 14. Other service changes include reduced frequency on the green line, orange line, and red line on March 14, increasing the wait time between trains by up to three minutes, according to the MBTA website.
The Carroll Center serves the blind and visually impaired through services including vision rehabilitation, vocational programs, and educational support, according to its website.
The center offers programs to students at different stages of life, such as children's programs that teach students to understand braille and adult programs that focus on living independently. One of the adult programs focuses on mobility, including how to use public transportation.
Harnish said that students are learning how to use rideshare services such as Uber and Lyft. While students have been taught how to use rideshares in the past, she said the center is spending more time teaching students how to use these rideshare services.
"They're really missing out on that opportunity to learn public transit, which is an important part of the learning process for someone who's blind," Harnish said.
Instead of students independently walking to bus route 52, Harnish said that instructors drive students to alternative bus routes, which reduces lesson times. Students are also hindered from independently practicing their skills outside of class, Harnish said.
"We've been able to adapt, but it hasn't been, you know, an ideal way to support students' learning and development of self-confidence by being able to do those independent trips and financially, you know, the cost of Uber and Lyft is not in everybody's budget," Harnish said.
Members of the Carroll Center staff have also been affected by the suspension of bus route 52, Harnish said. To substitute public transit, staff at the Carroll Center are using family members for rides or rideshare programs, according to Harnish.
"We have staff who use the bus to get to and from work since we have many blind staff who don't drive," Harnish said. "So they've had to come up with new ways of getting to work."
Harnish said she wishes that the MBTA would have taken more time to consider the impact on the various places along the route, cut back on the number of buses opposed to eliminating the route, or cutting back in other areas…
Read the full story about the suspension of the MBTA 52 route here.