Carroll Center for the Blind Awarded $500K Grant to Support People with Vision Loss
Newton nonprofit to receive funds for the next decade from the Cummings Foundation to help transform the lives of individuals confronted by the challenges of vision loss.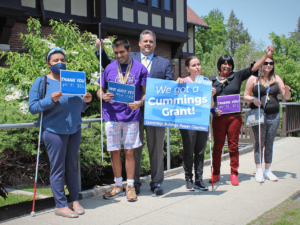 NEWTON, Mass. (May 24, 2021) – The Carroll Center for the Blind, a leader in services for individuals who are blind or low vision, announced it will receive funding through Cummings Foundation's $25 Million Grant Program. The Newton-based nonprofit will receive $500,000 over the next 10 years to help deliver critical vision-related rehabilitation services to people from across New England and beyond.
The Carroll Center for the Blind empowers people of all ages and all stages of vision loss to live independent and fulfilling lives by providing instruction, counseling, and other vision-related rehabilitation services at both its Newton Campus and in the community.
"Adjusting to vision loss and developing the necessary independent living skills is a continued challenge for people who are increasingly isolated in our community—one that has been exacerbated by the COVID-19 pandemic," said Gregory J. Donnelly, President and CEO of the Carroll Center for the Blind. "This grant will be a catalyst for uplifting the blindness community we serve across the Commonwealth and we are honored by the Cummings Foundation's embrace of our mission."
Support from Cummings Foundation will allow the Carroll Center to meet the increasing demand for its vision rehabilitation services and to reach those in greatest need, including low-income and senior populations. According to the National Institutes of Health, the number of U.S. citizens who are blind and visually impaired is expected to double by 2050. With more than 25 million adult Americans–including 128,000 Massachusetts residents–already experiencing blindness or difficulty seeing (even when using corrective glasses or contacts), this is a significant size of the population.
The Cummings $25 Million Grant Program supports Massachusetts nonprofits that are based in and primarily serve Middlesex, Essex, and Suffolk counties. The Carroll Center for the Blind was chosen from nearly 600 applicants during a competitive review process and is one of just 40 local nonprofits selected to have their grants elevated to a 10-year award ranging from $200,000 to $500,000 each.
Through this place-based initiative, Cummings Foundation aims to give back in the area with it owns commercial buildings, all of which are managed, at no cost to the Foundation, by its affiliate, Cummings Properties. This Woburn-based commercial real estate firm leases and manages 10 million square feet of debt-free space, the majority of which exclusively benefits the Foundation.
"We aim to help meet the needs of people in all segments of our local community," said Cummings Foundation executive director Joel Swets. "It is the incredible organizations we fund, however, that do the actual daily work to empower our neighbors, educate our children, fight for equity, and so much more."
This year's grant recipients represent a wide variety of causes, including social justice, homelessness prevention, affordable housing, education, violence prevention, and food insecurity. The nonprofits are spread across 43 different cities and towns.
The complete list of grant winners, plus more than 800 previous recipients, is available at www.CummingsFoundation.org. Cummings Foundation has now awarded more than $300 million to greater Boston nonprofits.
About the Carroll Center for the Blind
Established in 1936, The Carroll Center for the Blind empowers those who are blind and visually impaired to achieve independence and to lead a fulfilling life. The nonprofit organization provides services for individuals of all ages including vision rehabilitation services, vocational and transition programs, assistive technology training, educational support, low vision services and essential skills for seniors, and more. For more information, visit www.carroll.org.
About Cummings Foundation
Woburn-based Cummings Foundation, Inc. was established in 1986 by Joyce and Bill Cummings and has grown to be one of the three largest private foundations in New England. The Foundation directly operates its own charitable subsidiaries, including New Horizons retirement communities in Marlborough and Woburn, and Veterinary School at Tufts, LLC in North Grafton. Additional information is available at www.CummingsFoundation.org.