Making A Positive Impact for the Visually Impaired
BY ANGELA THOMA (Via WATERTOWN TAB)
At 15-years-old, Kate Katulak lost her perfect vision.
After falling ill, Katulak experienced an array of odd symptoms, landing her in the hospital for three months. She said her symptoms ranged from feeling like her face was melting off to extreme headaches, which caused her to pass out and get sick to her stomach.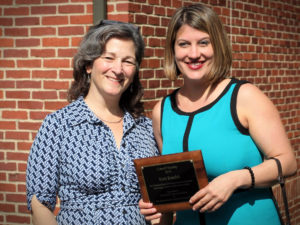 Doctors believed Katulak had meningitis, but that was never confirmed. Whatever the illness, it damaged Katulak's optic nerve and left her completely blind.
"I was the only one in my family who didn't wear glasses," Katulak said. "We joke about that, because now I am the only one who is blind."
Katulak survived the illness and went through rehabilitation to help her adjust to being blind. She said going from perfect vision to seeing nothing was traumatic, and it took her a long time to reconcile her blindness.
Katulak, now a Watertown resident, has dedicated her life to teaching the visually impaired. She is the assistant director of a new initiative at Watertown's Perkins School for the Blind called College Success. The program aims to help high school graduates with visual impairment between the ages of 18 and 22 successfully transition to college. Katulak's work with Perkins has earned her a Society Award from the Carroll Center for the Blind.
Teaching to make an impact

Every year, the Carroll Center for the Blind in Newton selects four award recipients who are also inducted into the Carroll Society. Chief Program Officer Dina Rosenbaum said the award recognizes outstanding Massachusetts employees who are blind in the workplace...