Carroll Center for the Blind Continues to Serve Students Through Innovative Youth Summer Programs
Despite the ongoing pandemic, creative new remote and face-to-face programs are keeping blind and visually impaired youth engaged and connected.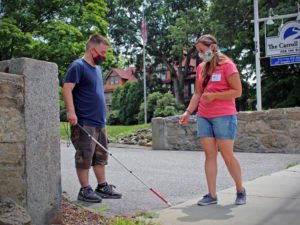 NEWTON, Mass. (August 10, 2020) – Although summer programs nationwide have mostly been shuttered due to COVID-19, the Carroll Center for the Blind has been quietly operating this summer to keep children and teens with vision impairments engaged and progressing. The Carroll Center has continued to offer learning and social activities via an innovative mix of remote and limited in-person, face-to-face day programs.
Every year, the Carroll Center for the Blind offers specialized youth summer programs for children, teens and young adults between the ages of 8 to 21 who are blind and visually impaired. This year, through a mix of creatively adapted remote and in-person day programs, students have the opportunity to connect with their peers, develop new skills in the home and for school, and continue to grow their independence.
These creative new programs have been well received by many students around the country living with vision loss due to limited availability of critical vision rehabilitation services during the ongoing pandemic. All summer long, students have remained engaged in vital skills development, such as career exploration, through remote programs like the Introduction to Careers in Music program—a first-of-its-kind virtual career development program for those aspiring to kick start a career in the music industry. Prominent music artists and professionals—many of whom are visually impaired themselves like Ellis Hall and Shayy Winn—shared their own life experiences with students while serving as invaluable resources for information, advice, and exploration across a range of music careers and topics.
Limited in-person day programs are also making it possible for students to embrace some normalcy by interacting with their peers while benefiting from daily living skill development such as safe travel through orientation and mobility lessons, direct technology instruction, learning to cook, and more.
"The students are having a blast while being supported with skills and resources to remain safe and connected," says Dina Rosenbaum, Chief Program Officer at the Carroll Center for the Blind. "There is nothing more important than providing these students with valuable summer enrichment programs despite these challenging times."
Remote and limited in-person summer youth programs are available to any blind or visually impaired Massachusetts resident as well as those from out-of-state. Discover more at https://carroll.org/virtual-youth-summer-programs/.
[addthis tool="addthis_inline_share_toolbox_p2tx"]