Carroll Center for the Blind Announces Be My Eyes Partnership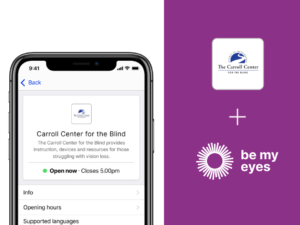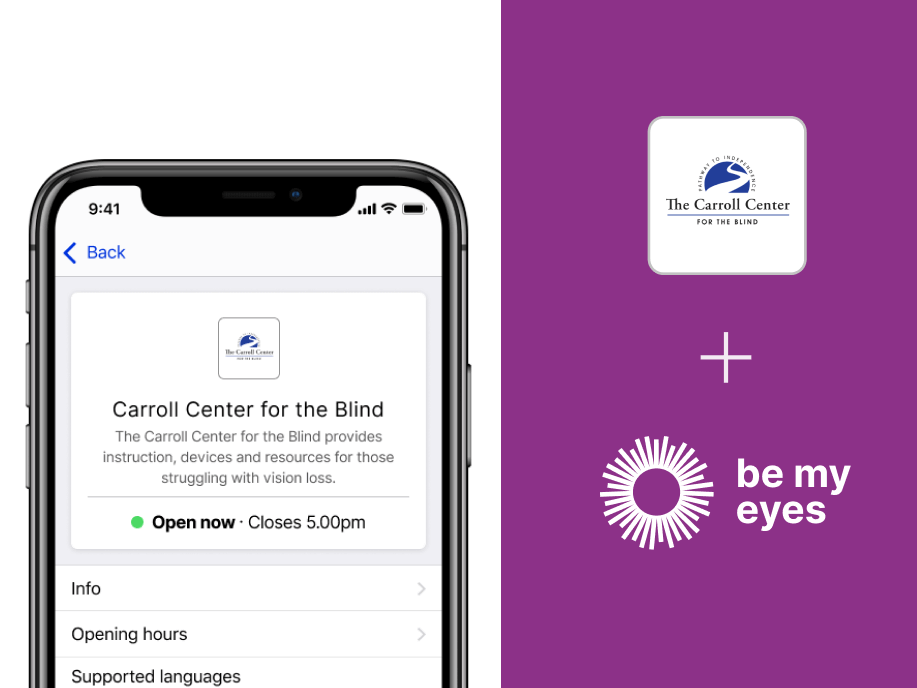 NEWTON, Massachusetts (June 15, 2020) – The Carroll Center for the Blind announced this week its partnership with Be My Eyes, an innovative app that provides real-time video assistance for individuals who are blind or visually impaired. Beginning Monday, June 15th, 2020, Carroll Center support staff will be able to field calls from the Specialized Help section of the app.
"Millions of Americans dealing with the challenges of vision loss need access to critical blindness and education services," said Gregory J. Donnelly, Carroll Center for the Blind President and CEO. "The ability to provide live, direct access to our team of experts through the Be My Eyes platform will be a game changer."
At a time when many struggle with the impact of the coronavirus pandemic, The Carroll Center is now able to provide remote guidance and consultation around crucial areas impacting the rights of Americans who are blind, and offer critical information on resources and supports available. Joining companies such as Google, Microsoft, and P&G as organizational supporters of the blindness community, The Carroll Center is leading the way for blindness organizations leveraging technology to connect with their members and deliver services in a whole new way.
"The Carroll Center has always been a leader in using the newest tools and digital media for our community," said Will Butler, VP of Community at Be My Eyes. "Today we need every kind of connectivity possible to make sure our blind and low-vision citizens are not left behind. We're excited to offer a place on our platform to organizations and corporations worldwide who have a true mission to serve any of the 2.2 billion people worldwide living with a vision impairment."
Now with almost 4 million users and a growing family of company partners, Be My Eyes is one of the largest "micro-volunteering" platforms in the world – with its more than 3.5 million volunteers on call at all times to assist those who need an extra pair of eyes at short notice.
The Carroll Center for the Blind empowers those who are blind and visually impaired to achieve independence and to lead a fulfilling life. The nonprofit organization provides services for individuals of all ages, including vision rehabilitation services, vocational and transition programs, assistive technology training, educational support, services for seniors, and an optical shop. For more information, visit www.carroll.org.
To inquire about Be My Eyes, contact community@bemyeyes.com.