Lirianni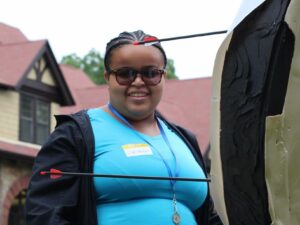 Her smile is infectious, lighting up the entire campus as she enjoys the Carroll Center's summer programming for young adults. Watching Lirianni beam with those eyes that dance, you do not see one ounce of sadness despite being born with Optic Nerve Atrophy, which has robbed her of her vision. A senior at Whittier Regional Vocational Technical High School, Lirianni talks with such enthusiasm about her future.
Lirianni came to the Carroll Center for the Blind as a middle schooler looking to connect with other blind and visually impaired teens. With the encouragement of her Teacher of the Visually Impaired, Lirianni enrolled in Carroll Teens, a two-week residential summer program. Lirianni remembers how scared she was when her mom dropped her off on that very first day. It was Lirianni's first time away from home and she was really nervous. However, she talks about the Carroll Center staff as "family" who made her feel so at home. She quickly forged friendships with other blind and visually impaired teens while also participating in unique summer programming including recreation, education and social networking.
This summer, Lirianni was an enthusiastic summer participant in the Carroll Center's Real World of Work Experience program. For seven weeks, Lirianni lived on campus at Lasell University, participated in an array of field trips, and worked a part-time job. Lirianni believes that it was this summer's Real World of Work Experience program that helped her find her career direction while also feeling confident about being a college student. Lirianni shares with us, "I knew that I wanted to go to college, but I was not sure what I wanted to study and wondered how I would do on a college campus. When we went on our field trip to Olin College of Engineering, I learned about the field of robotics and know that is what I want to do with my life!" We know that with her energy, can-do attitude and her determination that Lirianni German will succeed in all she does.