Visualizing Through One's Hands: Bill Reynolds
BY CHRISTOPHER BROWNER (Via Taft Bulletin, Spring 2019)
"IT IS AN IMPRESSIVE LINE in elevator talk to say that I teach newly blind adults to use power tools," says Bill Reynolds '69. After a 35-year career as a painter and muralist in Washington, D.C., and Boston, Reynolds became a woodworking instructor at the Carroll Center for the Blind, a leading blindness rehabilitation center in Newton, Massachusetts, in 2010 and never looked back.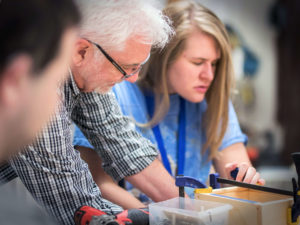 Enrolling as a premed student at Franklin & Marshall College after graduating from Taft, he quickly developed a love for the visual arts. "At that time, I wasn't aware that art was a possible avenue, but I ended up taking a lot of philosophy classes—philosophy of aesthetics—and some art courses," he remembers. From there, Reynolds built an exciting career as a freelance artist, painting everything from courtroom illustrations for the Supreme Court to vast murals in government buildings and museums.
"At the same time, I also had an interest in the field of blindness and Braille," he continues. "It was the opposite of my intense focus on visual work, but really Braille is all about communication, and that's what painting is about too." And when the Great Recession hit in 2008 and he struggled to acquire commissions to paint new works, the time was right for Reynolds to transform this lifelong fascination into a career opportunity.
"When the economy went down, mural projects went down too," he explains. "I was wondering what to do next and ultimately came across the Carroll Center." But when he inquired about a possible position at the center, he was surprised with his assignment. "I was more interested in Braille, but when they saw that I was an artist, they automatically put me to work in the woodshop. All my life, I was so myopic about painting that I never thought I would be doing anything other than that," he says. "But creativity is creativity."
He learned to channel his talents toward new artistic pursuits, and nearly a decade later, he continues to guide visually impaired students as they construct anything from jewelry and music boxes to small pieces of furniture like bedside tables.
Working with only two or three students at a time, Reynolds slowly introduces them to the woodworking process. "Some of the clients are freaked out when they hear…
Read more about "Visualizing With One's Hands" at article source here.
[addthis tool="addthis_inline_share_toolbox_p2tx"]