Leading Expert in Disability Employment Joins the Carroll Center to Foster Employment Opportunities for Students of the SRUTT Program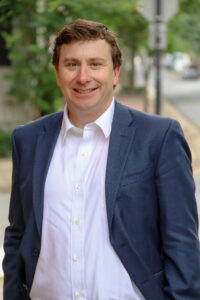 NEWTON, Mass. (August 29, 2023) – The Carroll Center for the Blind, a pioneering organization dedicated to empowering individuals with vision loss, is proud to announce the appointment of Billy Parker as the new Accessibility Job Developer. With an impressive track record spanning twenty-five years in the fields of government and non-profit disability employment, Mr. Parker brings a wealth of expertise and innovation to his new role.
Mr. Parker's illustrious career has been marked by a relentless commitment to fostering strategic partnerships, providing training, and promoting workforce development opportunities for individuals with disabilities. Notably, during his tenure as Chief of Staff at the Department of Labor, Office of Disability Employment Policy (ODEP) under the President George W. Bush Administration, Mr. Parker forged vital connections with major organizations in the business and disability community. His initiative alongside Major League Baseball's Jim Abbott and ESPN educating businesses on the value of employing people with disabilities set a powerful precedent for the business world.
Over the course of fourteen years with the National Industries for the Blind, Mr. Parker established numerous innovative employment training programs and partnerships with businesses nationwide. His efforts led to the successful employment of hundreds of blind or visually impaired individuals. Most recently, Mr. Parker envisioned and implemented the first-ever job board focused on creating employment opportunities for individuals who are blind and visually impaired.
In his new role as Accessibility Job Developer at the Carroll Center for the Blind, Mr. Parker will be working with students of the Screen Reader User Tester Training (SRUTT) program on securing employment after graduation. SRUTT is a comprehensive eight-week remote training program that prepares participants for a solid career path in digital accessibility. Its primary objective is to foster employment opportunities for individuals who are blind or visually impaired. Upon successful completion of this program, students are equipped to make significant contributions towards a digitally inclusive world as accessibility and usability testers. This includes the testing of websites, mobile apps, and electronic documents such as PDFs, enhancing their usability and accessibility for all.
A native of North Carolina, Mr. Parker is an alumnus of North Carolina State University, where he earned a B.A. in Political Science. He currently resides in Alexandria, VA with his wife and two children. Beyond his professional pursuits, Mr. Parker actively engages with the community as a basketball and football coach, further demonstrating his dedication to empowering youth through sports.
About the Carroll Center for the Blind
Established in 1936, The Carroll Center for the Blind empowers those who are blind and visually impaired to achieve independence and to lead a fulfilling life. The nonprofit organization provides services for individuals of all ages including vision rehabilitation services, vocational and transition programs, assistive technology training, educational support, low vision services and essential skills for seniors, and more. For more information, visit www.carroll.org.
Contact: Julie Friedman, Carroll Center for the Blind
Phone: (617) 969-6200 x 206; Email: julie.friedman@carroll.org
[addthis tool="addthis_inline_share_toolbox_p2tx"]