'Blind Tasting to Benefit' event held to support The Carroll Center for the Blind
VIA THE NEWTON TAB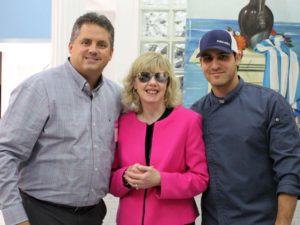 The "Blind Tasting to Benefit" fundraiser to support The Carroll Center for the Blind, 770 Centre St. in Newton, was held Oct. 27 at the Farm Grill and Rotisserie, located at 40 Needham St. in Newton, a unique multi-sensory experience to taste, touch and smell the aromas of authentic Greek cuisine.
Blindfolded guests sampled a four-course meal featuring traditional Greek favorites including tzatziki, kebabs and baklava paired with wine to support the nationally-recognized Carroll Center that helps blind and visually-impaired children, adults and seniors become active and independent.
Established in 1936, the nonprofit organization empowers blind and visually-impaired persons to achieve independence and to lead a fulfilling life and provides services for individuals of all ages and all stages of vision loss, including vision rehabilitation services, vocational and transition programs, assistive technology training, educational support, services for seniors and an optical shop.
"Growing up in Newton, one of the teachers I admired the most had lost his sight and benefited tremendously from his involvement with The Carroll Center for the Blind. I have seen their incredible commitment to helping people who are blind or visually impaired lead fulfilling lives. It is an honor to support their work," said Alex Iliades, owner of the Farm Grill and Rotisserie restaurant.
"The night serves to bring together a diverse group of people for a unique multi-sensory evening of food and fun," says Gregory J. Donnelly, president and CEO of the Carroll Center for the Blind. "Farm Grill is well known for both its wonderful food and wonderful heart. We are thrilled that they have chosen to partner with us for this event."
Read the full story about the Blind Tasting Event at article source here. 
[addthis tool="addthis_inline_share_toolbox_p2tx"]