Blind Legislative Informational Networking Day (B.L.I.N.D.) (CANCELLED)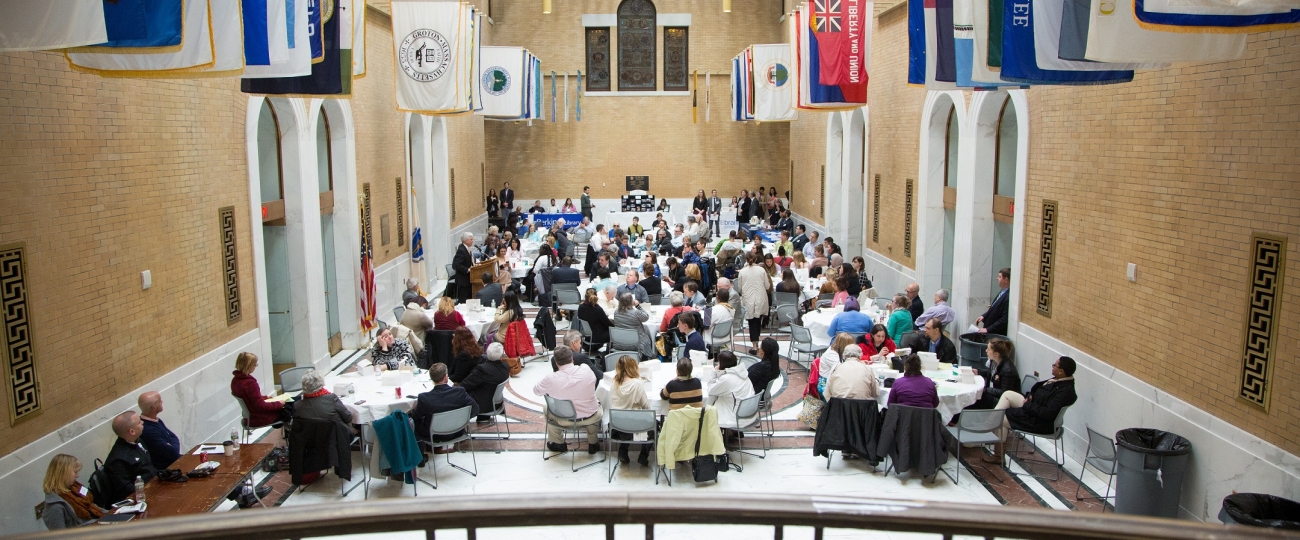 Due to the severity of the impending snowstorm, the BLIND Event has been moved from Tuesday, March 13, to Thursday, March 22. If you have already registered you do not need to register again.
UPDATE: Due to additional weather related issues in Boston, the BLIND Event that was rescheduled for tomorrow, Thursday, March 22nd has been CANCELLED.
When: RESCHEDULED FROM March 13, 2018 to March 22, 2018 – 11:30am to 2:00pm
Where: The Great Hall, at The Massachusetts State House
Address: 24 Beacon St Boston, MA
Cost: Free
Purpose
To advocate for legislative support of the FY2019 budget and funding recommendations that recognize the necessity for specialized blindness services and their critical importance and need for funding in these challenging budgetary times.
This year's event may be the most important BLIND event of all! Your advocacy is critical to the future of blindness services as we know them in the Commonwealth!
The Governor's proposed budget for the Massachusetts Commission for the Blind (MCB) for fiscal year 2019 has recommended essentially level funding. However, MCB faces a $1.55 million annual deficit despite significant recent cuts.  This is due to historic practices and systemic issues triggered by several recent external factors. Early this fall Federal Vocational Rehabilitation funding was reduced and MCB was monitored by the Federal Rehabilitation Services Administration (RSA). The audit exposed fiscal issues going back more than 30 years and a finding ignored by MCB when last audited by RSA in 2009. MCB is working with the Baker Administration and Legislature to secure additional funding beyond that proposed in the Governor's budget in order to eliminate this deficit.
The proposed budget for FY2019 for the Perkins and Worcester libraries has recommended another year of level-funding for these important programs. Advocates will be asking for an appropriation of $454,966 for the Worcester Talking Book Library line item 7000-9402; and an amount of $2,588,155 for the Perkins Braille & Talking Book Library line item 7000-9406 – the amounts requested by the Massachusetts Board of Library Commissioners to support both of these important library programs.
Funding support is also needed for special education for students with disabilities for FY2019. Support for special education circuit-breaker funding for Chapter 766 private school tuition rates is also needed.
This is a critical year to make your voices heard at the State House – services as you have known them are clearly at risk and must be preserved! Please add your voice to our advocacy efforts!
Come to the State House on Tuesday, March 13.Thursday, March 22nd!
Program Schedule:
11:30 am — 12:00 pm: Light buffet lunch with legislators / sponsors & access product demonstrations
12:00 pm — 1:15 pm: Awards / Consumer Presentations
1:15 pm — 2:00 pm: and beyond: Networking, walk around the State House to visit representative and senators' offices
Registration & Follow Up:
Your participation is critical!
Register online or call 617-972-7247 to register over the phone.  
This will make it possible for event planners to provide you with a follow-up email with additional details on this event including directions to the State House meeting room, and your representative and senator's names and office locations.
For other questions, or to register by phone contact Erin Fragola, B.L.I.N.D. 2018 Registration Coordinator, at 617-972-7247 or erin.fragola@perkins.org.
For any accommodation requests, please contact Carl Richardson by March 2, 2018 at (857) 400-5502 or via email at carl.richardson@state.ma.us.
Talking points and legislative contact information will be distributed in a future email communication prior to the event, with hard copy handouts available at the event. If you are unable to join us on Tuesday, March 13th, you can still help by contacting your elected officials.
Sponsors:
Bay State Council of the Blind
Carroll Center for the Blind
Lowell Association for the Blind
Massachusetts Association for the Blind and Visually Impaired
National Braille Press
National Federation of the Blind of Massachusetts
Perkins, on behalf of the Friends of the Perkins Library and the Worcester Talking Book Library
Thank you for your support of the tenth annual B.L.I.N.D. Event at the State House on Tuesday, March 13.Thursday, March 22nd
[addthis tool="addthis_inline_share_toolbox_p2tx"]