A Love for Cars has this Computing for Employment Graduate Fueled to Land his Dream Job
"Do what you love and you will never work a day in your life."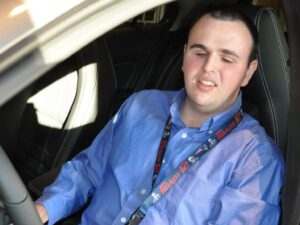 For some, the old adage about turning a passion into a career proves to be one of the most difficult challenges in life. That hasn't been the case for Adam Roberge. Adam, a 27-year-old who has been blind since birth, has seamlessly combined his longtime affection for cars into his professional life. Adam's love affair with automobiles began in preschool. Reflecting on the natural curiosity in his childhood, he says that he has "always wanted to know what kind of car people drove." Little did he know, about 20 years later, his dream would come to light.
After graduating high school, Adam quickly parlayed his role as a Products Intern into a 30-hour-per-week job as a Research Assistant at Herb Chambers Mercedes-Benz of Boston. He spent his time immersing himself in everything related to cars. He wrote for the dealership's monthly blog posts, brainstormed on a 'Car of the Month' to be featured on their website, researched different car models, and created quizzes for the on-site salespeople. Jeff Davis, General Manager of Mercedes-Benz of Boston, has nothing but admiration for Adam. When asked about Adam's work ethic, Jeff says, "[Adam] really loved what he was doing. He always wanted to do more and take on more responsibility. Adam was consistently a positive and engaging asset to the team." This lifelong interest is what made his work at the Mercedes-Benz dealership his ideal job.
Although Adam was an exceptional addition to the team, the effects of the pandemic had impacted business at the dealership significantly, and as a result, difficult personnel decisions were made. Despite being let go, he wasn't about to let this setback stop him from developing new skills and creating an action plan for getting a new job.
That's when he enrolled in the Computing for Employment program at the Carroll Center for the Blind. The program was a "life-changing experience for [him]." He created an all-new resume, practiced interviews, improved his JAWS and NVDA screen reader skills, learned to network, and so much more. This six-week program has successfully prepared Adam for his job hunt by teaching him vocational and technological skills. Today, Adam is on the hunt for a job where he can apply his love for cars, so he "will never work another day in his life." Adam is very optimistic that he will find the right place for him.
If you know of a potential opportunity for Adam, don't hesitate to contact him at adam.roberge93@gmail.com.