Fencing? For Individuals Who Are Blind and Visually Impaired?
You read it right. It's one of many unique features of the rehabilitation program at the Carroll Center for the Blind.
Fencing for the blind and visually impaired person is more than a sport – it helps participants learn to navigate the physical world more effectively by honing skills and sharpening senses. Participants develop the balance, dexterity and coordination necessary for walking with a cane. Fencing helps with orientation, mobility, balance, listening and navigational skills that help persons with vision loss travel independently. Fencing also boosts self-confidence.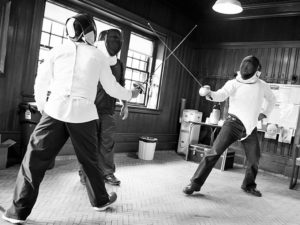 Blind fencing has no special rules; participants wear the same jackets and headgear as sighted fencers. You start with épées touching, then fence on command, just like a fencing bout for the sighted. During competition, there are no verbal cues from coaches, and they use the same electronic scoring devices that buzz and light up when a fencer touches the tip of their weapon to their opponent's body.  To keep the blind fencers oriented, a rectangular carpet strip is used.
The Carroll Center has been teaching fencing to its students for exactly those reasons since 1954.
Fencing was initiated as a training tool by Father Thomas Carroll in the rehabilitation program for the blinded veteran's programs of WWII. It was designed to augment orientation and mobility training and the use of the long cane for safe travel. Father Carroll and Larry Dargie, Fencing Coach at Boston University, brought that successful concept to the St. Paul's Rehabilitation Center in Newton in 1954 (later renamed the Carroll Center).
In 1968 Coach Dargie brought his friend, All-American Harvard fencer Eric Sollee (later renowned fencing coach at Harvard and MIT) to the Carroll Center. Coach Sollee succeeded Dargie in 1972 and went on to devote four successful decades to teaching and further developing the fencing for the blind concept.
Eric Sollee rewrote the book on the impact and value of fencing to blind persons. His commanding voice, dynamic personality, and expertise in modifying fencing for therapeutic purposes were wonderfully balanced with his genuine interest and caring for helping each client at the Carroll Center to deal with adjusting to blindness.
En Garde! Here, The Blind Fence Fearlessly
Learn how blind and visually impaired people find physical and mental balance in fencing classes at the Carroll Center for the Blind in this short video below.
Produced, shot and edited by Aynsley Floyd