Carroll Families Conversations and Connections
Join us on November 29 at 12:15 pm for Carroll Families Conversations and Connections, a monthly Zoom series that connects parents and caregivers who can share ideas, resources, joys, and concerns. Facilitated by Barbara Duffy, a parent of a visually impaired son, our goal is to build strength, comradery, suggestions, solutions, and resources to help those in our care.
The Carroll Families program aims to support, educate, and connect parents and other caregivers of children who are blind or visually impaired. We feel that sharing resources and offering emotional support for the unique needs of parents with children experiencing vision loss is critical and we look forward to growing this supportive community.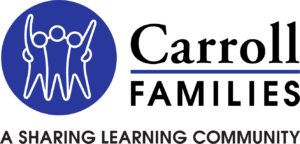 Event Details
Date: Wednesday, November 29, 2023
Time: 12:15-1:15 pm
Location: Zoom
Topic: Partnering with your child's TVI to ensure educational success
Facilitator: Barbara Duffy, Director of Foundation & Family Relations AND Parent, Carroll Center for the Blind
Guest Speaker: TVI from Education Services
What will you learn?
During this interactive event, attendees will learn the following and more:
Realities of translating school materials and textbooks into Braille
Literacy fluency with text to voice technologies
How to work with your TVI to access available resources
Contact Information
If you have any questions about this event or the Carroll Families program, please email development@car​roll.org or call (617) 969-6200 x 255.