PLAN of MA and RI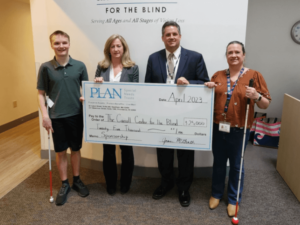 Every family has unique financial goals, but for families with a person with disabilities, the process can be complex. The Carroll Center for the Blind's Exclusive Trust partner, Planned Lifetime Assistance Network of Massachusetts and Rhode Island, Inc. (PLAN), recognizes
the challenges families face and values the importance of lifelong support for individuals with disabilities.
That is why PLAN has partnered with the Carroll Center as a $25,000 annual sponsor. With PLAN's support, the Carroll Center has launched the Carroll Families program, an initiative that supports, educates, and connects parents of children who are blind or visually impaired. This year we hosted two free webinars on the topics of Understanding the IEP and What is a Low Vision Examination, and we look forward to offering additional webinars, in-person events, and other resources to families in the future.
PLAN is a nonprofit organization that administers special needs pooled trusts for individuals with disabilities. They run the oldest and largest pooled trust in New England, and their team of licensed experts help beneficiaries protect their eligibility for public benefits while preserving their assets. PLAN can assist individuals and families learn about pooled special needs trusts and how you can monitor your loved one's financial security. For more information visit http://planofma-ri.org or call (617) 244-5552.
The Carroll Center thanks PLAN for their support and for being one of the inaugural members of the Philanthropy Circle of Independence, our new leadership annual giving program that includes donors who make annual gifts of $2,500 or more.
To learn more about Carroll Families or the Philanthropy Circle of Independence, please contact development@carroll.org.